Feature Articles: Alien Abductions, Cattle Mutilations, Conspiracies, Roswell, UFOs
Live Investigation of Vacaville, California Crop Formation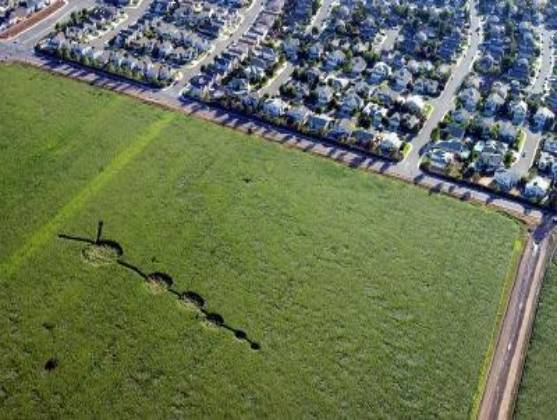 Photo by Brad Zweerink, Media News Group.

The recent discoveries of several crop circle formations in Solano County, California, USA have initiated several interested investigators into the science of investigating crop circles. As is typical of many new investigators, they inevitably reach out to others in the crop circle research community for guidance, and this new group of researchers in California did so in an unprecedented, innovative way.

On July 16, 2003, after several e-mails back and forth between crop circle researchers in Michigan and California, Steve Moreno, Director of PsiApplications in Fairfield, CA offered to provide a live broadcast from the recently discovered Vacaville, CA 'Insectoid' crop circle formation as a way to collaborate on the investigation of this crop circle in a corn (maize) field. Of course, the Michigan researchers accepted this exciting offer immediately! Knowing that crop circle investigations need to be done sooner, rather than later, we hastily arranged a date and time for this broadcast.

On July 17, 2003, Steve Moreno and myself (Jeffrey Wilson) did a 'dry-run' and tested the technology and methodology we would use for this unprecedented type of investigation. Steve, in California, would use a video camera to record the images directly into a computer, which would then be sent through the Internet using Yahoo Messenger. We would also be in contact via phone. We managed to work out a few technical difficulties, and proved that the system could work. We decided to carry out the investigation the very next day.

I then sent out a number of invitations to crop circle researchers in the United States and Canada who we knew had experience in investigating corn crop circle formations, and who we had been in contact with about the Vacaville formation already, to join us for the world's first International Tele/Video Investigation (TVI) of a crop circle formation.

The plan was to have Steve and his team of researchers broadcast live video through the internet from the Vacaville formation while we were simultaneously on an audio conference call beginning around 7:00 pm EDT/ 4:00 pm PDT on Friday, July 18. All the researchers contacted expressed excitement and willingness to participate in this unique collaboration, although not all of them could arrange to participate on such short notice.

On July 18, 2003, Steve Moreno, Reuben Uriate, MUFON State Director for Northern California, and Alan Weiblen, PsiApplications Executive Assistant went to the Vacaville site, braved the 100 degree-plus afternoon heat, made their way through the thick corn foliage, and arrived inside the formation and began to set up their equipment. They wired their video camera to their laptop computer, then wired up a cell phone to broadcast wirelessly to the Internet using Yahoo Messenger. Although Yahoo Messenger has both video and audio capabilities, they restricted their wireless broadcast to video images only to use all the available bandwidth for the video stream. They used a second cell phone to be in audio contact, and contacted us in Michigan right on time.

At my home, in Dexter, Michigan, Dr. Charles Leitzau, MUFON consultant, and myself parked ourselves behind my computer - each of us with a wireless phone in hand, waiting for the first video broadcast. In Wixom, Michigan, Todd Lemire, the Chief Investigator for Michigan MUFON also was at his computer waiting to receive the video broadcast, while I would narrate via Yahoo Messenger for him. In Toronto, Ontario, Canada, Mike Bird, MUFON Ontario Provincial Director and Canadian Crop Circle Research Network (CCCRN) member also joined us (after about the first hour- he needed to solve his own technical problems) to receive the broadcast, while also on 3-way audio conference call - relayed through my phone in Dexter.

The California researchers encountered a few technical difficulties in the field to begin with (which, I stress, was NOT due to any anomalous energies from the formation), but at 8:25pm Eastern Daylight Time / 5:25pm Pacific Daylight Time, they solved the issues, and the live video feed from the Vacaville crop circle formation commenced. The era of Tele/Video Investigations (TVI) of crop circles has now begun!

The battery power in the cell phones and the computer gave us about two hours worth of connection time and we managed to accomplish several worthwhile results in that limited time. Here, I want to quote Dr. Charles Leitzau, because he has outlined the specific scientific observations and experiments done collaboratively through this first TVI:

Dear Friends,

I am still so amazed at what we accomplished in our spirit of open cooperation yesterday, that I cannot find any words to express its profound significance, which goes way beyond just the creation of a new application for cutting edge technology.

This is my first piece of feedback for those involved. However, aside from the valid scientific discoveries, the amazing example it sets for the synergistic multiplication of progress through free collaboration demands that we share the knowledge of our achievement even before we have finished the project and analyzed all the data.

For those of you learning of this for the first time, the logistics of this accomplishment are relatively simple. Using video, and wireless web technology through the medium of Yahoo, combined with wireless and land-line telephone conferencing, a group of seven diverse investigators spread over two states and Canada, thousands of miles apart, collaborated to carry out a "real time" field investigation of the famous, Vacaville, CA., "Insectoid" Corn, (maize) Formation.

I do not intend for this to be a "news release," therefore more specific details will, no doubt, be presented by others in the group. However, this is my first opportunity to share some of the concrete, scientific results which we accomplished.

The Vacaville field and video team consisted of Steve Moreno, Ruben Uriarte, and Allen Weiblen representing several different research groups including "PsiApplications," and "MUFON." They broadcast images over Yahoo from within the formation demonstrating observations they had made themselves, and carrying out specific investigations resulting from continuous, simultaneous, conferencing with the entire group. Communications on this end were coordinated by Independent Investigator, Jeffrey Wilson, from his home in Dexter, Michigan, where I, Dr. Chuck Lietzau, joined him as part of the scientific analysis team.

Mike Bird representing the Canadian Crop Circle Research Network as well as MUFON was on a direct phone link from Toronto where he was also able to receive the video from Vacaville and be an active part of the collaboration about specific activities for the broadcast team to carry out, by phone. Chief MIMUFON Investigator Todd Lemire, following the video at his home in Wixom, Michigan, shared his expertise through the use of both a "chat window," and his "streaming video" which was also on-screen. Together, the diversity of abilities and spectrum of personal experiences with similar formations that we were able to share, coupled with video and voice communication in response, allowed us to conduct a more perceptive preliminary examination, along with some conclusive scientific analyses, than would have been possible by any one team alone. Other investigators in the forefront of crop circle research were invited and were unable to join us or proved unavailable.

And that is my real purpose for this message. Valid scientific research is exciting, but tedious and time consuming. This part of the collaboration is still ongoing. While it may involve another collaborative "Tele/Video Investigation," we have found that scientific measurements of valid samples is perfectly possible using scanned images that include a metric ruler. This will eliminate the time delay involved in shipping the numerous samples required. A single, 2 hour "TVI" such as we carried out represents only a fraction of the time required to plan and carry out the acquisition, and measurement of relevant samples, but does represent the all important, "preliminary survey," which helps to set the course of further investigation. Even so, and despite the ever-present technical difficulties, which were NOT related to energy-interference within the formation, we were able to make some firm conclusions, including a statistically valid scientific investigation. My hat goes off to the intrepid crew in Vacaville, who entered the field by climbing a ditch in the near-hundred degree sunlight, then, as they left in the gathering darkness, found themselves confronted by a, now, water-filled moat.

Every fact must be validated and taken into account. Early on, it may not be possible to know specifically what will prove to be crucial in the course of ongoing investigations to ultimately determine the authenticity of the formation.

1) (Conclusively verified by scientifically valid statistical analysis) THE DENSITY OF MOTHS IN THE FORMATION'S FIRST TWO CIRCLES IS SIGNIFICANTLY GREATER BY A FACTOR OF 17 TIMES, THAN THAT IN THE STANDING CROP SURROUNDING IT IN THE FIELD.

This is determined by the analysis of specific "walking transects" which compare equal areas of the "left antenna," "head," 1st pathway, and second circle combined, with surveys taken in the standing crop which appropriately match area traversed and location. This could not have been designed and carried out without the TVI collaboration. The local, CA., Dept. of Agriculture has speculated that this formation, (the "Insectoid"), may represent the first known occurrence of the European Corn Borer in California's history. It is a moth common out East and encountered in the Fremont [Michigan, near Hemlock] maize formation here last year [2002], the larvae of which bores recognizable tunnels in the maize stems, sometimes causing the stems to break at the site. While there may be possible natural causes for the presence of moths in the formation, their distribution is an ANOMALY until further explained. If the larvae were pupated in stalks that were downed, they may have been exposed to greater heating by the sun resulting in earlier emergence. It may be natural for the adults to congregate in open areas to mate. However, if this were the case, there most likely would have been a greater number of adults in the standing crop with their density increasing towards the formation. Instead, they were almost totally absent from the standing crop. Another possibility is that the larvae or pupae in the stems of the formation plants may have had their life cycle accelerated by the effects of the energies involved in an authentic circle's formation. Further investigation will be necessary to choose among these or other hypotheses should the distribution of the moths prove crucial to the determination of the formation's authenticity.

2) (Verified by on-site and on-screen collaborative analysis) EVEN IF THE EUROPEAN CORN BORER, Ostrinia nubilalis, IS PRESENT, THEIR LARVAE ARE NOT RESPONSIBLE FOR DOWNING THE PLANTS IN THE FORMATION.

Corn borer damage in stems leaves behind a recognizable tunnel, usually filled with sawdust-like, chewn material, called "frass." The field team was able to verify the observation made by collaborators from on-screen, close-up images, detailing the absence of the highly characteristic damage at the site of the horizontal separation zone through the nodes of a number of stalks examined during the TVI session.

3) (Verified by on-site and on-screen collaborative analysis) THERE ARE AT LEAST 3 DISTINCT, MACROSCOPICALLY APPARENT, "PHYSICAL SIGNATURES" CHARACTERISTIC OF THE DOWNING MECHANISM.

A) Plants, horizontal at the base, which are still connected to the original "root basket," and continue to grow. These may put out new prop roots at the first few nodes along the horizontal length, and then begin a quick recovery to upright position about the 4th node from the ground.

B) Plants vertical to a higher node, such as the third from the ground, where the upper stalk is "severed" across the middle meristematic plane of the node but continues to remain attached and dangling by a few fibers.

C) Plants similar to "B" above except that the upper portion is completely "severed" and absent from connection to its lower stalk. See "4" below for special significance.

4) (Verified by on-site and on-screen collaborative analysis) Many downed formation plants are vertical to a higher node such as the third where the upper portion is completely "severed," AND COMPLETELY MISSING FROM THE VICINITY. In one specific trial, one of the on-site field team was directed to use himself as the center of a sampling circle of 5 feet diameter and individually document each severed plant within this sample area. All "severed" plants in this sample quadrat were separated at the middle of the third node from the ground. In 4 cases, the severed portion was still present, barely attached to the lower, upright stalk by a small number of fibers. HOWEVER, in 8 cases in which the stalk was completely severed, the missing portions of the stalk were completely ABSENT from the vicinity. The litter on the ground consisted only of dried leaves from this year's crop and one extremely weathered cob from last season's crop. The upper potions of these 8 plants, consisting of an estimated length o f 3 through 5 feet each, were APPARENTLY REMOVED from the site. This sample scientifically verifies the anecdotal reports in newspapers that many, perhaps several hundred, stalks are completely missing without a trace.

Scientific report prepared by Chuck Lietzau, MUFON Consultant.

As Dr. Leitzau has concisely recounted, several scientifically verifiable results were obtained in this initial TVI, which I would like to elaborate on (All photos by Mike Miley.

The CA researchers reported that they had seen these moths only inside the formation, but not while walking through the field, so we had them test their observation. Again, as Dr. Leitzau recounted, there was 17 times the number of moths in the formations' first two circles as compared outside the formation in the standing corn. Why from only the first two circles? As the CA researchers reached the 3rd circle, they reported that it had been flooded – the field's irrigation system had been turned on. They decided wisely not to press on at that point. As Dr. Leitzau also noted, this resulted in the CA researchers encountering a water-filled irrigation ditch when they exited the field – which had been dry when they entered two hours before (this caused a bit of a problem trying to get across it exiting the field).

The mention of the corn borer comes into play here, because that has been suggested in past corn crop circle investigations as a possibility for how the stalks of corn are cut, broken, or flattened. But this was verified through careful examination NOT to be the case.

The identification of multiple mechanisms of damage to the corn stalks in order to create the circles and pathways of this formation. It is important to note these various ways (flattened but not damaged and continuing to grow, severed stalks which are barely still attached, and completely severed stalks) occur almost uniformly throughout the entire formation – that is to say in any given area of the formation you can find any of the 3 mechanisms including side by side by side. The severed stalks were measured to have been 'cut' almost all at 9 inches from the ground (although the range was from 7-10 inches), and all at the 3rd growth node: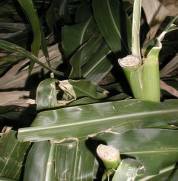 This 'severing' of stalks is not a new phenomenon. Paul Anderson, Director of CCCRN, contacted me after I reported this detail on CropCircleNews.com, and said he had seen this same anomaly in two corn crop circle formations he investigated near Mission, British Columbia, Canada in the fall of 2002.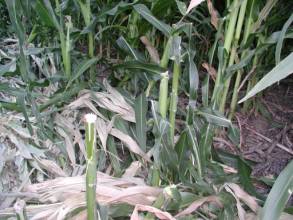 Last summer, on the campus of Fresno State University, in California, a 125ft long formation in corn also had 'cut' or 'severed' stalks in it, although university officials wouldn't allow any outside researchers to conduct any investigations there.

Back in April of this year, a "T"- shaped formation was discovered near Defiance, Missouri in a dry lakebed full of tree saplings. The saplings had been cleanly severed by some unknown force.

As has been reported elsewhere, and also by these CA researchers (verified via the TVI) is that much of the severed stalks/plant material in this formation is missing – the stalks are just not to be found – possibly as much as 40-60% of the stalks in the affected areas. This was found to be the case by the first investigators on the scene. To give you an idea of how much plant material that is – this formation is 569 feet in length, the six circles range from about 87 feet in diameter to about 23 feet in diameter, and the pathways as long as 86 feet. There are hundreds, if not thousands, of stalks missing. Also, to give you an idea of where in the field the formation is located, we also timed how long it took the CA investigators to walk from the formation to the closest exit point of the field: 8 minutes. This is the largest corn crop circle on record in either the USA or Canada.

The window of time of this formation's appearance has also been narrowed down to a short 4.5 hour time frame. At the nearby Nut Tree Airport, the Administrative Secretary stated that she, two other pilots, and her daughter flew over this field at 2:15 PM on the Sunday (July 6th) this formation was discovered by Blue Ridge Aeronautics pilot Lou Tobin at approximately 6:45 PM. She, and her daughter, stated emphatically that 'it was not there', because they live across the street from the field, and they always look down to find their house as they fly over the area. This narrows the event date and time to this 4.5 hour window during the hottest part of the day in which temperatures easily reach 110 degrees and more in the field. This gives rise to another anomaly in the formation: that much of the plant material, especially the leaves on the ground inside the formation was found to have turned brown and was dry or dehydrated when the formation was first investigated – creating the initial impression that formation was 'old', or had been there for possibly a couple of weeks. But the eyewitnesses have clearly shown this not to be the case.

Steve Moreno astutely pointed out that on the north side of each circle and the pathways, the first 5-6 rows of standing corn adjacent to the downed corn was 'bowed' – most severely the closest to the flattened corn; less 'bowed' the farther away the standing corn was – and was more extreme in the smaller circles: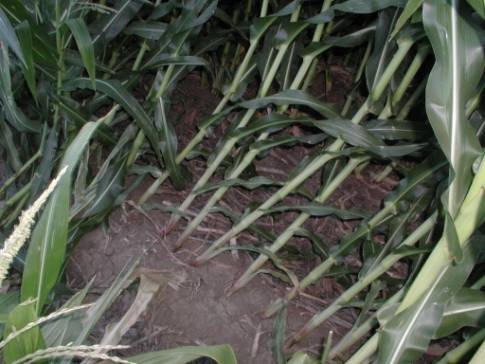 Mike Bird from Toronto added that he had seen a similar effect in a 99ft long, dumbbell-type corn circle formation near Orilla, Ontario, Canada in September of 1993. He reported that the western side of the perimeter of the formation had a "shifted" type effect. The best way I suggested to describe it would be a 'wake' or wave-like effect going out into the standing corn for several rows.

The CA researchers have recorded this event for posterity, and we have agreed to plan a second TVI in the near future to continue the investigation. As Dr. Leitzau said this is just the first phase of the investigation of this formation. This technological experiment has turned out to be a very positive collaborative experience that hopefully will set a precedent for crop circle investigating! This first international attempt at TVI from a crop circle formation was nothing short of an exciting, incredible success! A huge thank you to Steve Moreno for suggesting the TVI idea and providing the lion's share of the technological equipment, and to Reuben Uriate and Alan Weiblen for helping to operate the equipment and being our 'tour guides' in this formation. I just cannot stress enough how important it was to have had the breadth of experience of this entire group of international researchers collaborating together for this investigation. Each one contributed and helped direct some part of the process. It was a richly rewarding experience! "Armchair Investigator" has just taken on a whole new meaning . . .

Jeffrey Wilson

July 19, 2003

All photos are copyright 2003 Todd Lemire, Charles Lietzau, and Jeffrey Wilson, and may not be reprinted, republished, or reused without permission.

Reprinted with permission of the authors. Quotes may be excerpted from this article provided full credit is given to the author and this web site.

* * *