Joe Stewart, The Paranormal Nomad

International Bigfoot Hunt in Lapeer County, Michigan
Photo of Joe Stewart,
The Paranormal Nomad
Date: Monday, May 30, 2011
Location: Lapeer County, Michigan
Team:
Joe Stewart, USA
Mark Azofeifa, USA
Tom Thomas, USA
Dr. Igor Burtsev, Russia
Purpose: Locating alleged Bigfoot structures
We had a wonderful opportunity present itself: The tepee structures that Mark and I had found earlier caught the attention of the Russian scientist Dr. Igor Burtsev who is the Director of the International Center of Hominology in Moscow, Russia. He was attending a Bigfoot conference in Ohio and had been in the United States for two months.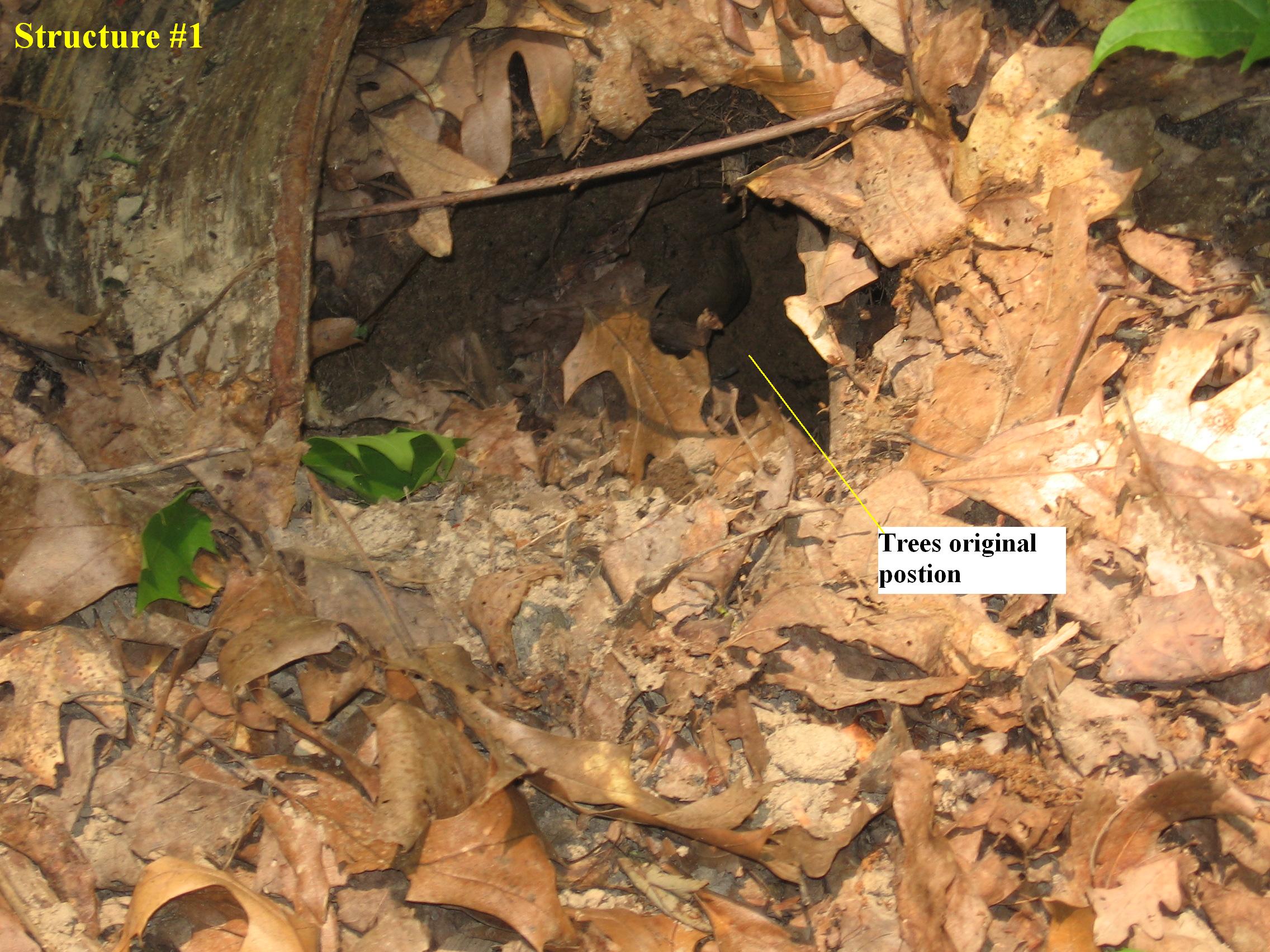 Structure #1, trees original position
Dr. Burtsev was coming to Michigan and had seen the photos we took of the 5 foot tall tepee structure on May 21, 2011. This inspired Dr. Burtsev to join us on our May 30, 2011 Bigfoot hunt in Lapeer County. A later discussion with Dr. Burtsev revealed that similar structures we found are associated with Bigfoot and are a worldwide phenomenon. Despite ongoing speculation, no one knows the purpose of these structures.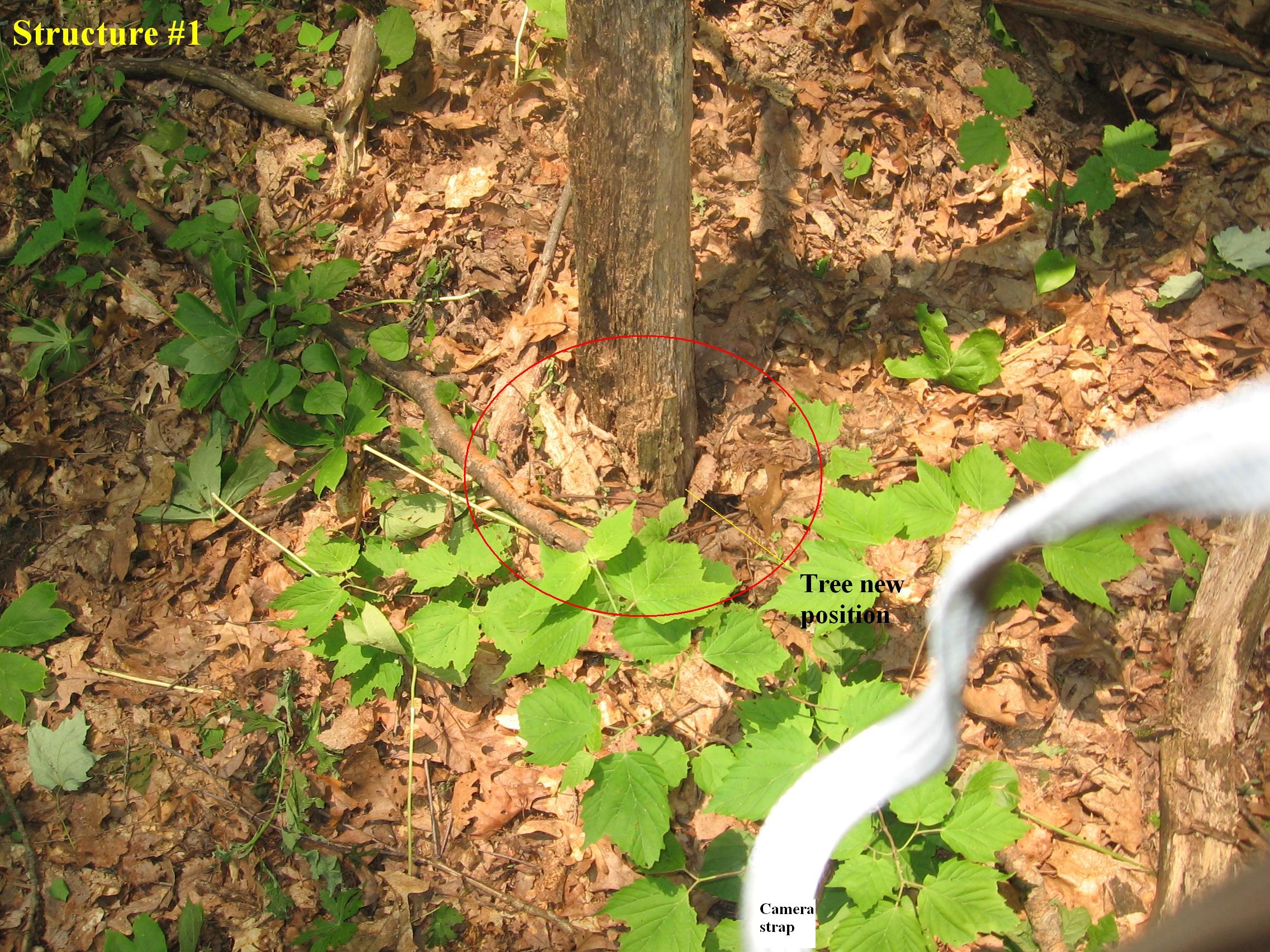 Structure #1, New position of tree uprooted
Monday around noon we all met up at our launch point in Lapeer County. Dr. Burtsev rode in with Tom Thomas who was putting up Dr. Burtsev for about a 7 day stay in Lower Michigan. We appreciated Tom taking the time on a holiday to transport Dr. Burtsev to the site in Lapeer County and then wait 3 hours in the heat for us to return.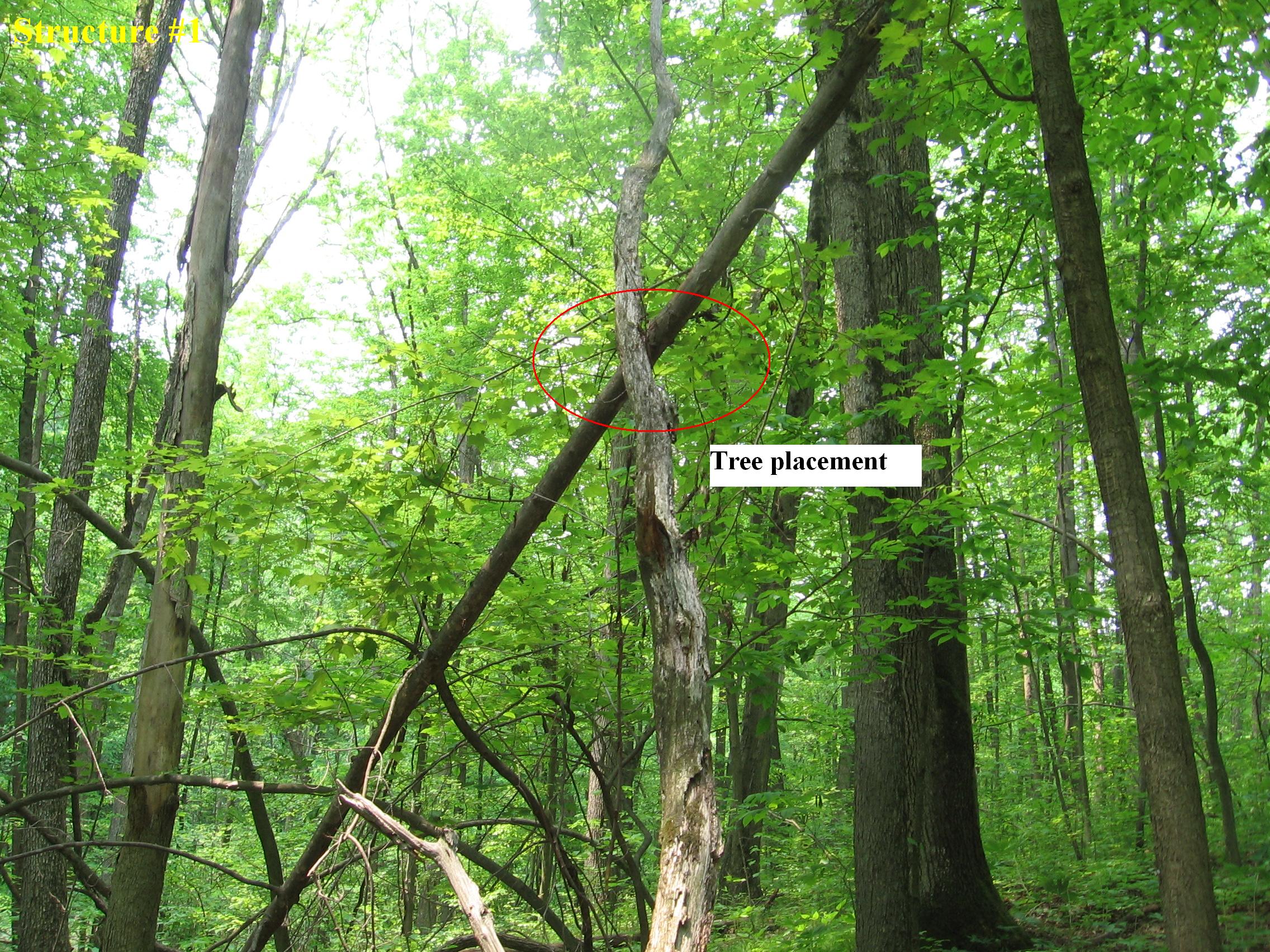 Structure #1, Dead tree placement making up structure #1 at edge of pond
After introductions and a couple of team photos, Dr. Burtsev took out his notebook to write down where he was and what we knew about the activity there. Soon we were on our way. Tom's knee was bothering him so he stayed back and watched over our vehicles for us.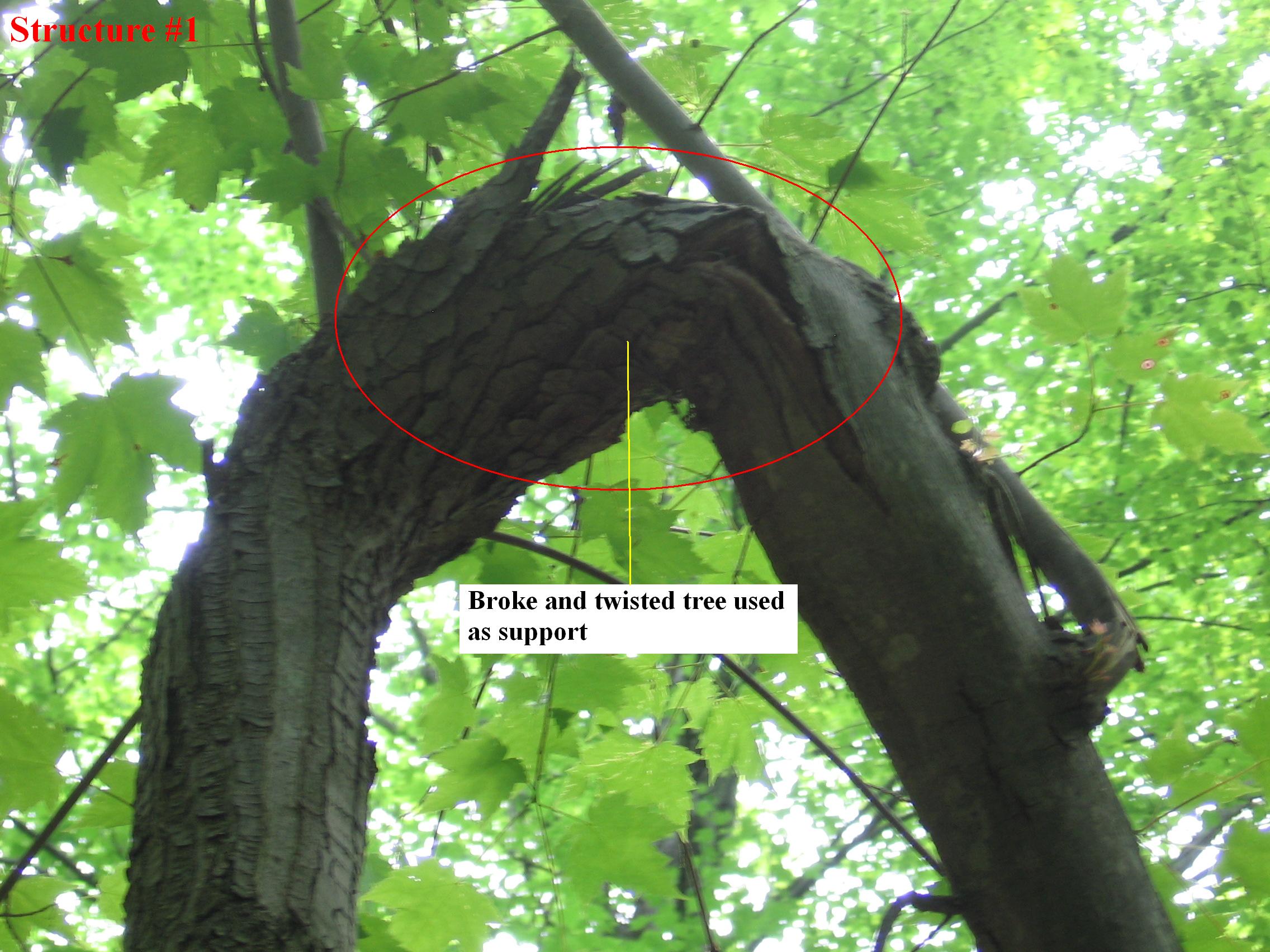 Structure #1, Live tree broken and twisted support for dead tree
The temperatures were in the mid-nineties and it was very humid. The mosquito population was ridiculous to say the least. We proceeded down the trail into the wilderness. Mark rehashed all of the events mentioned in the previous journal of the May 21, 2011 Bigfoot hunt. We visited those sites while Dr. Burtsev asked questions and made notes.

Structure #2, Small teepee
We finally arrived at our destination, the pond, the location of the tepee structure which is about a mile hike in from where we had parked our cars. Mark and I never examined the tepee structure close up. We discovered it from across the pond and video taped it on May 21.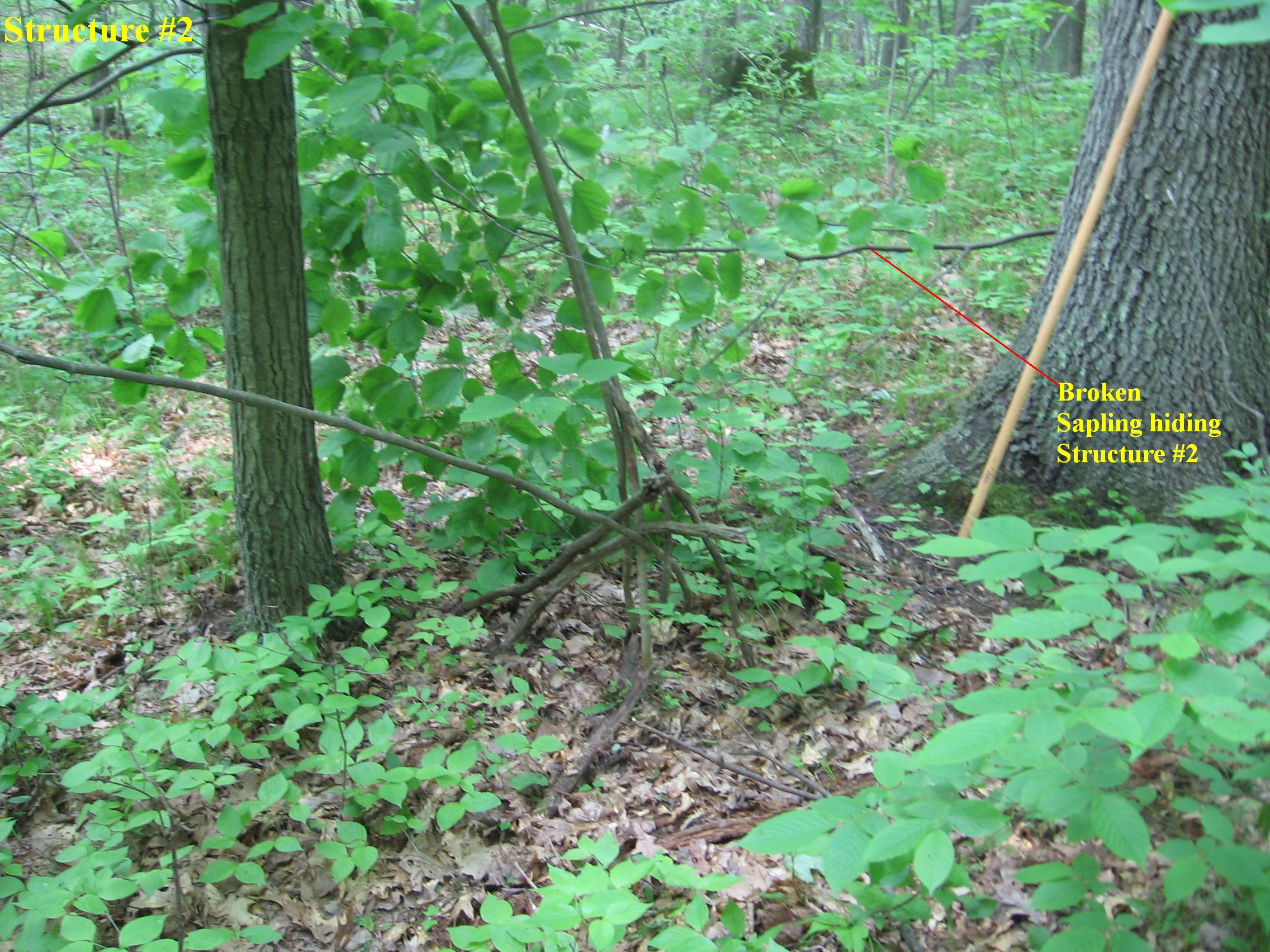 Structure #2, Sapling hidden by sapling
Mark had also discovered another smaller structure about a foot in height from a previous time he was out there; we were unable to locate it on the May 21 hunt. However, this time around we did find the smaller tepee structure; actually Dr. Burtsev found the structure as we were hiking to the other side of the pond.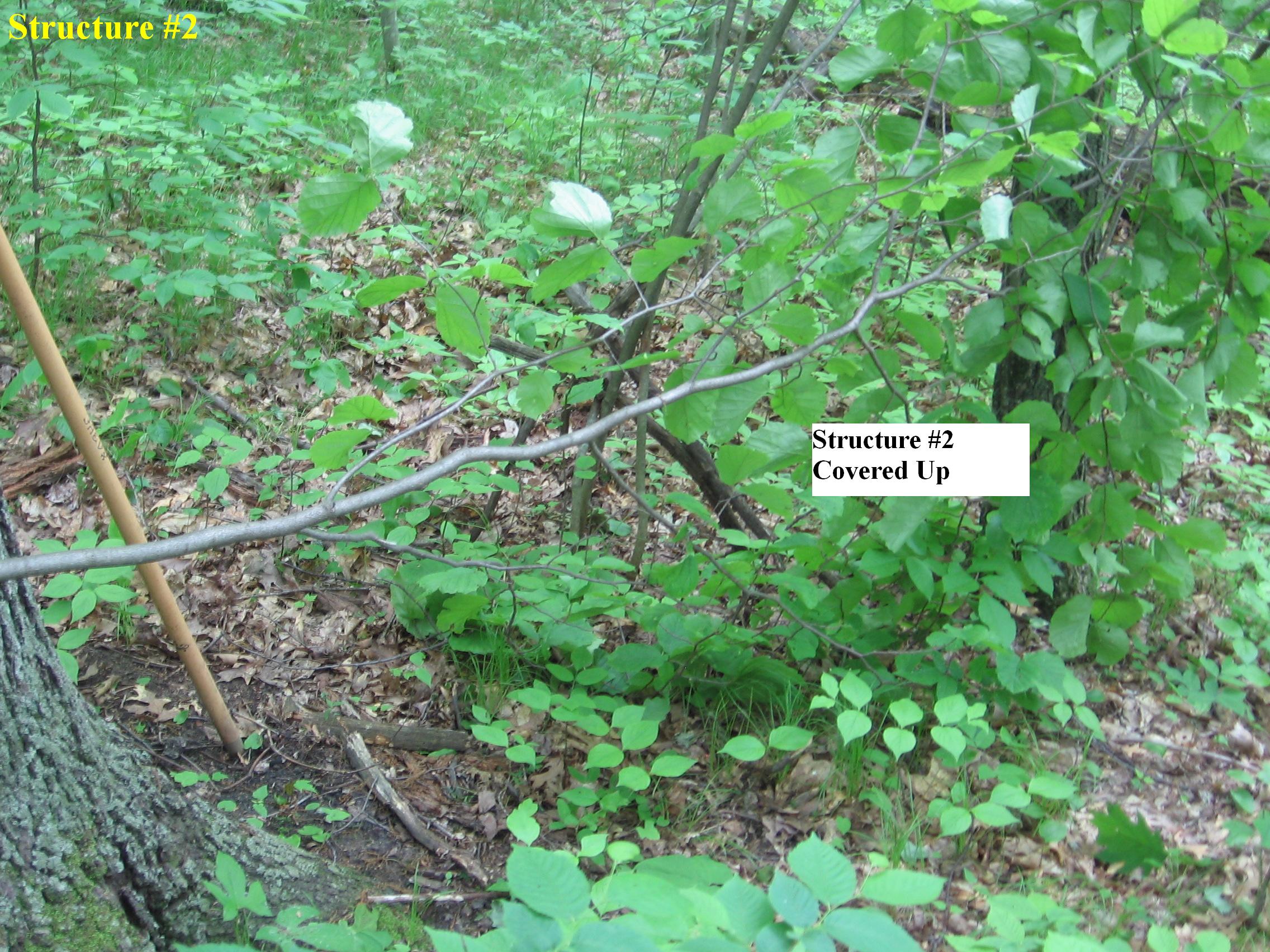 Structure #1, View from covered up side
It was interesting to note that all these structures are built on live trees. In this case dead branches were interwoven with three small saplings. The structure was pretty sturdy and in my opinion could hold up against snow, storms, and animals that might brush up against it as they passed it by. I think this was meant to be a permanent structure which would in reality last only a few years under the dynamics of the woodlands.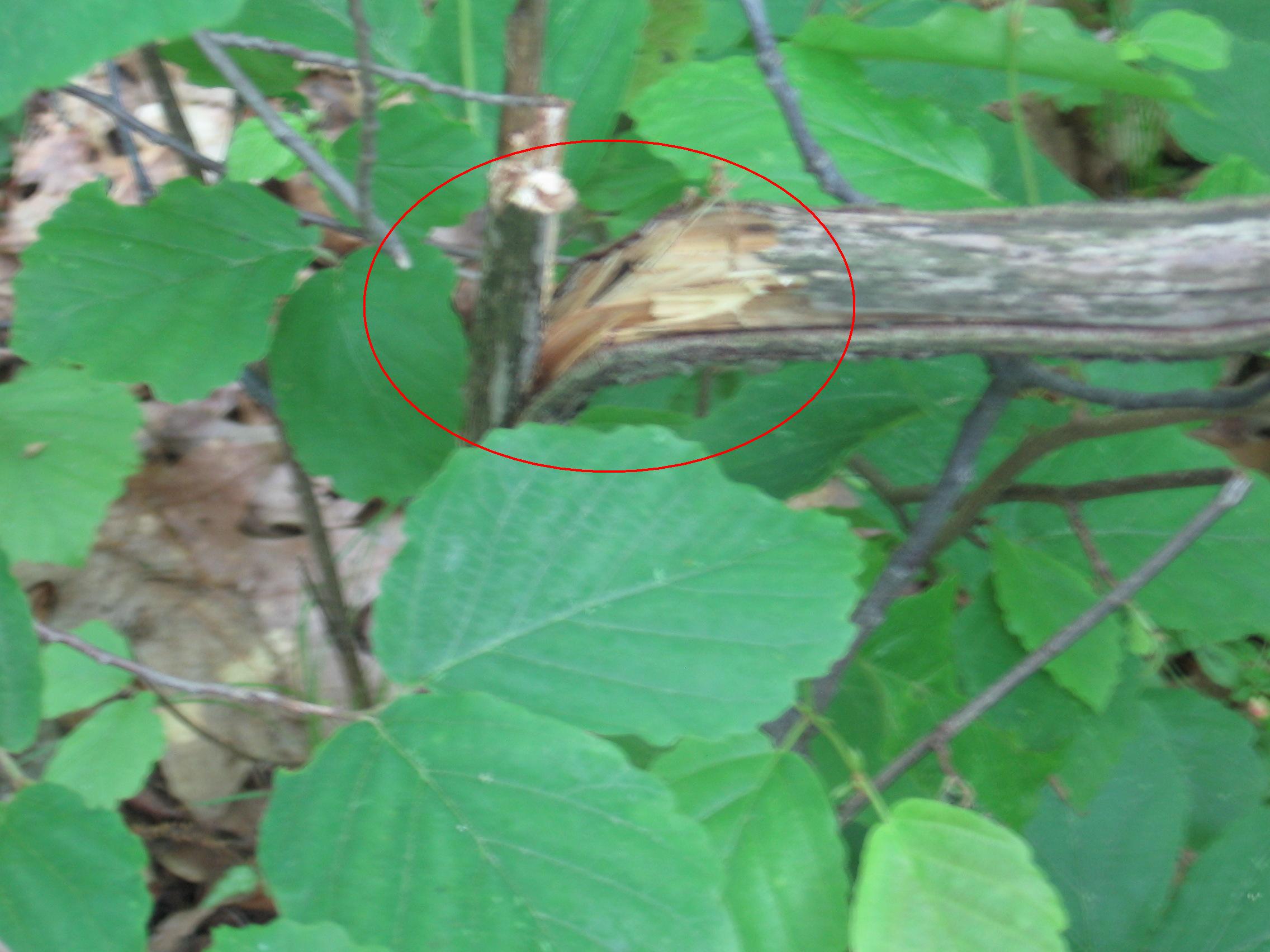 Structure #2, Sapling broken not cut
As a side note: I felt it important to return to the site the following weekend to better document what we found and look for more structures. I ended up finding 2 more structures; those photos will be included in this report. I also will mention that when I was looking for the smaller tepee, I had trouble locating it.

Structure #3, Tree woven through other trees part I
Within the five day period before I could return to the area, someone broke a ½ inch sapling near the structure and left it attached to its trunk. The top of the sapling had an abundance of leaves and was carefully laid in front of the tepee to hide the structure from about a 180 degree viewing angle. In the woods that makes it almost invisible.

Structure #3, Tree woven through other trees part II
We collectively decided these structures might be for mankind, a marking of territory or maybe claiming a hunting site. If this is the case, why would it be deliberately hidden from view? I can only speculate at this point that these structures are for the Bigfoot not mankind.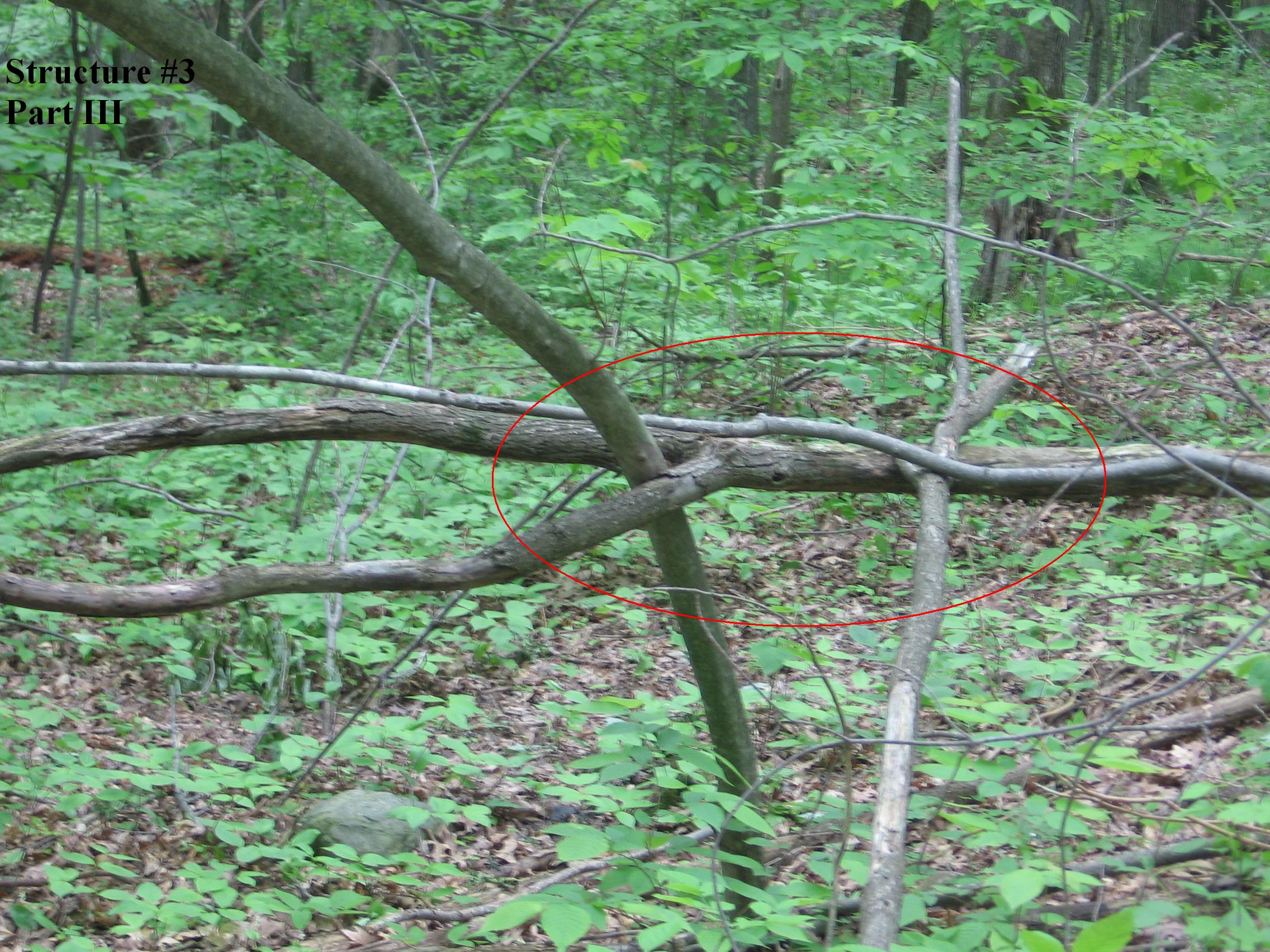 Structure #3, Tree woven through other trees part III
It might be a more sophisticated form of tree breaking we find associated with Bigfoot activity. I can't help think though why spend the time to build something more elaborate and time consuming compared to breaking a tree. These structures must have a more significant meaning. In further analysis we also discover the laying of trees across certain parts of the human trails.

Structure #3, Whole structure view
These are trees that didn't naturally fall on the trail; rather, they were brought in from other locations and laid across the trail for maximum effect. If a tree did fall naturally on the trail most likely it would be at an angle or partially cover a trail. This isn't the case. There is the random chance a fallen tree could perfectly cut the trail off, but we were finding other blockings on other trails with the same signature of architecture.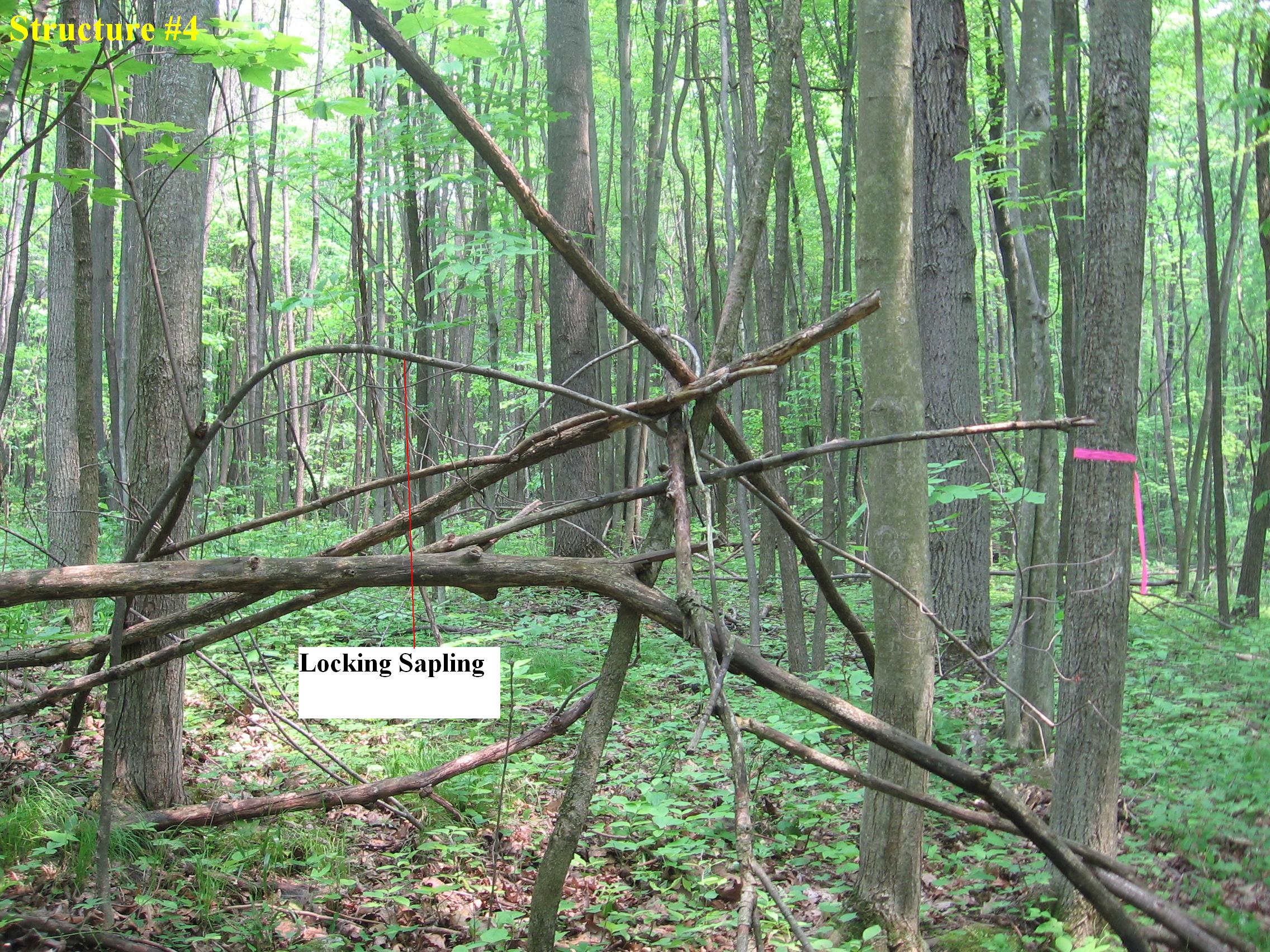 Structure #4, 5 foot tepee showing locking sapling
One such blockage had two trees involved and was laid perfectly across the trail almost like it was measured. Then a young tree about 2 inches in diameter and quite tall was bent over and placed under the two trees supporting the trees blocking the trail to the height of a human. I believe these are obviously for mankind. Bob Daigle thought that the Bigfoot might be trying to keep horses and mountain bike riders out of certain areas. I think Bob might be right. I have seen horse and mountain bike tracks on the trails.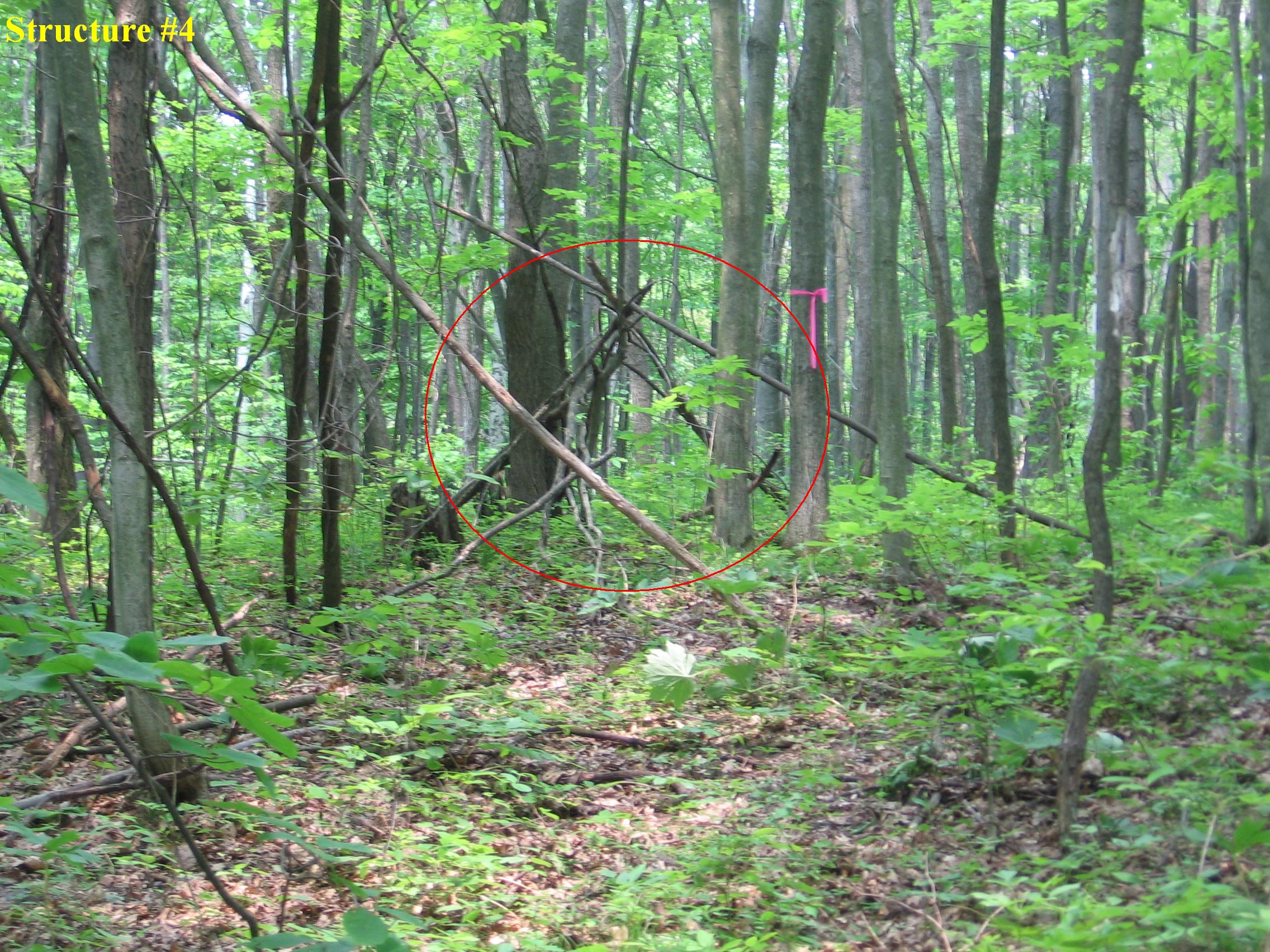 Structure #4, Full view
We continued on from that structure and made it to the 5 foot tepee seen a week earlier. It was quite impressive to say the least. Again, the structure's base was a live tree about 3.5 inches in diameter. Dead branches of similar thicknesses and lengths were formed into a structure not unlike a tepee.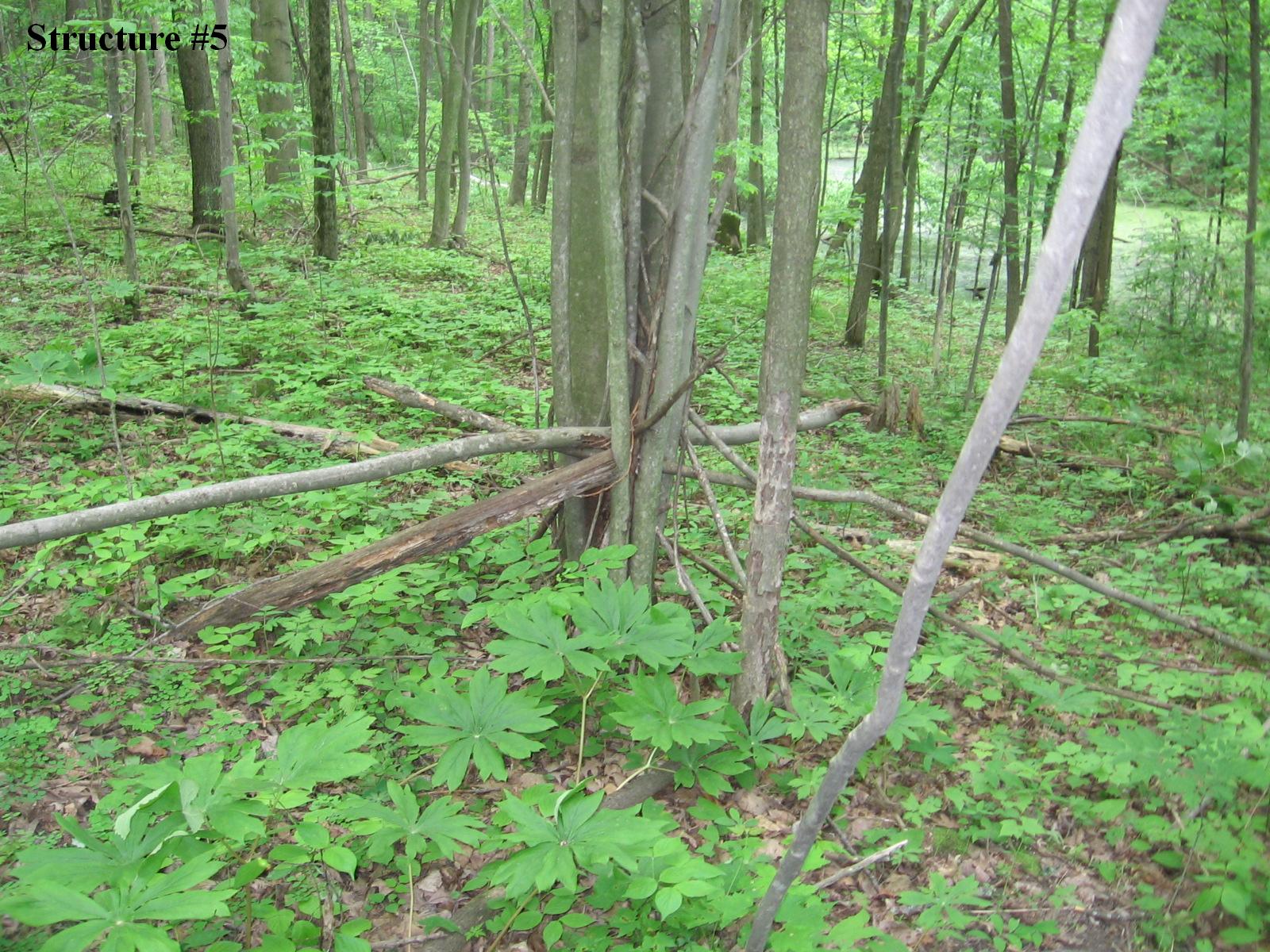 Structure #5, Using live tree sticking dead branches in at different angles
There was one sapling that was bent into the structure and under all the other dead branches acting like a spring and locking everything into a stable position. I was impressed with the engineer skills and the thought process that went into it. Dr. Burtsev was impressed as well and took numerous videos and stills. This was a good find.

Structure #5, Another view
With daylight burning Mark reminded us he had a pressing engagement since it was Memorial Day, so he had to leave soon because Mark was our guide and was gracious enough to take time from family to show us the locations. We worked our way back to beginning of the pond when Dr. Burtsev noticed a strange assembly of trees.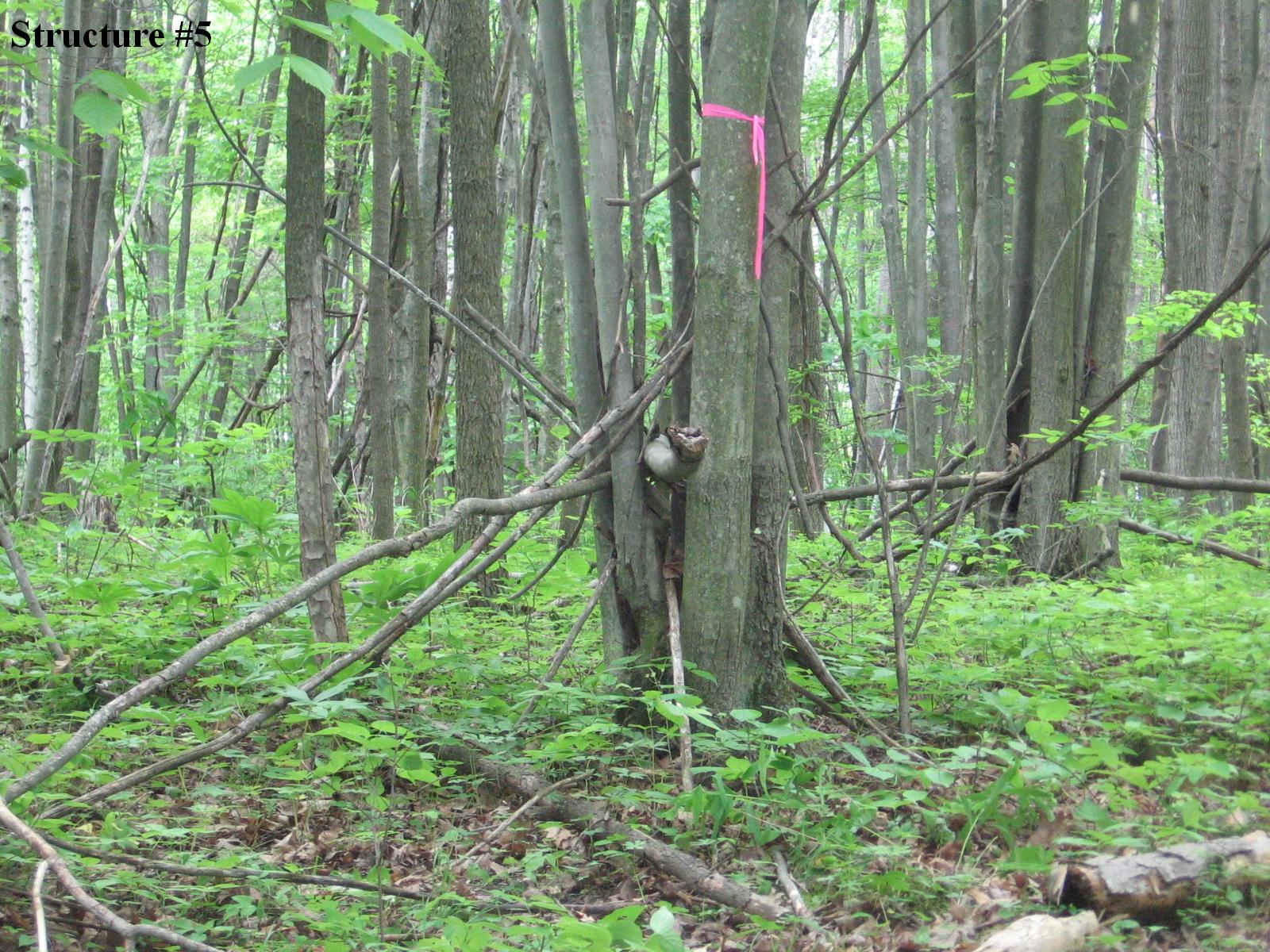 Structure #5, Yet another view
What we had was a tree approximately 13 feet up that was twisted and broken but remained attached. The twist made the break resistant to detaching from the rest of the tree trunk. Then we noticed a dead tree that was leaned against the broken part. The point of interest was that the dead tree had been pulled out of the ground and jammed back into the earth about 1.5 feet deep, and then leaned against the twisted broken tree.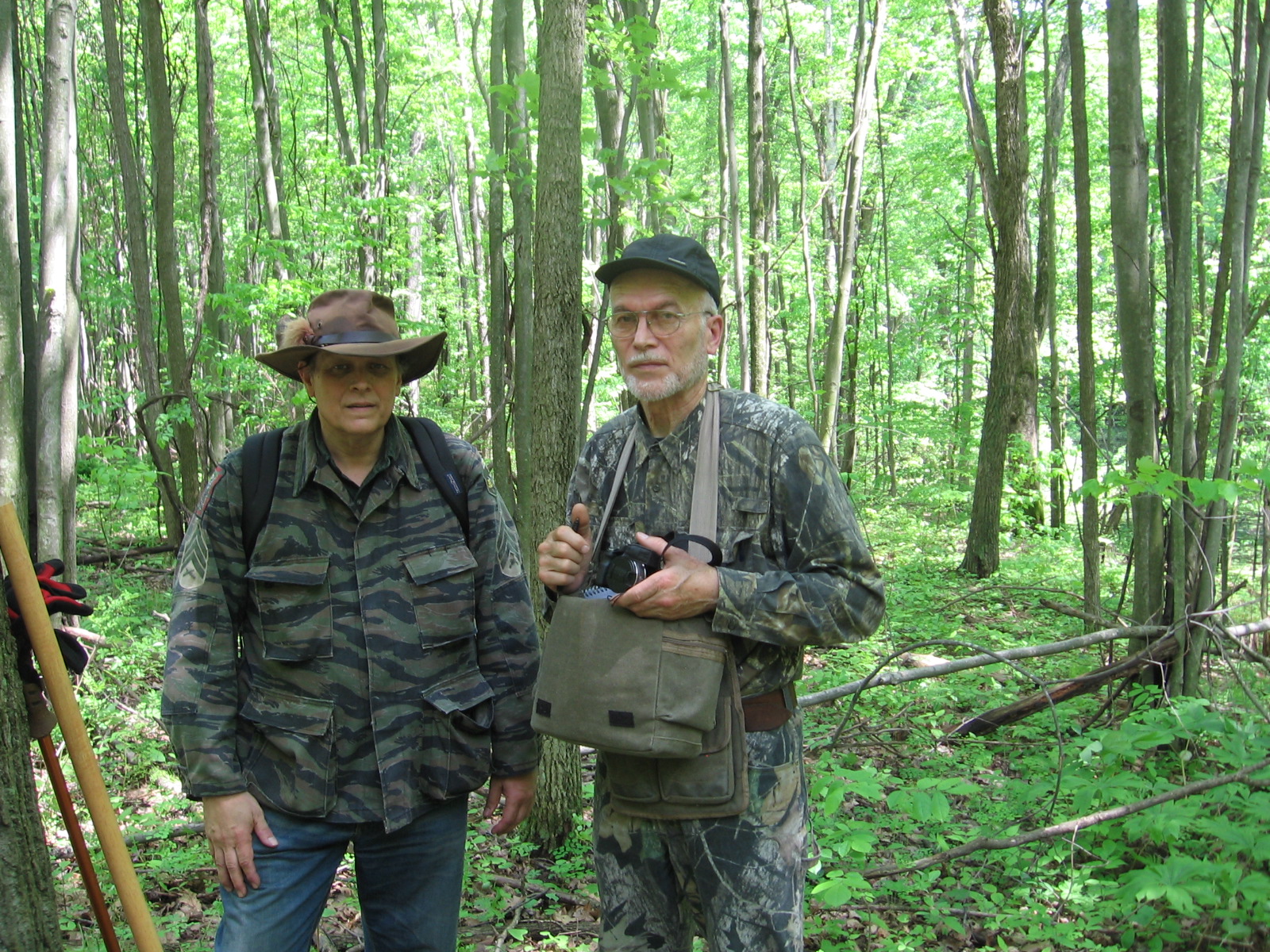 Joe Stewart on left and Dr. Igor Burtsev on right
We found the hole where the tree was removed from the side of a hill near the broken tree. You could tell from the shape of the dead tree that it originally grew out of the side of a hill which matches the hole in the side of the hill where apparently the tree once resided. We were impressed with the strength it took to remove the tree and relocate it such as it is.
Mark was getting close to his departure time and the woodland was hot and humid. Along the way back to our cars we stopped at a creek to cool off. Unfortunately, the water according to Dr. Burtsev, was warm to the touch but still refreshing all the same.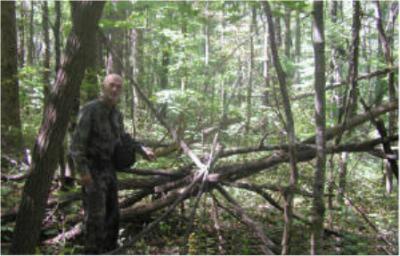 Dr. Burtsev next to structure allegedly built by Tennessee Bigfoot
The question in my mind is, are these structures created by Bigfoot? No one witnessed a Bigfoot making these structures but we must consider: There have been numerous sightings of Bigfoot in that area and other surrounding areas. These structures are found deep in the forest where only hunters might venture. I wondered if hunters would do something that elaborate to mark an area.
Well, first of all the structures are not all that noticeable, so they wouldn't really make a good marker, and from my experience using reflectors, plastic building tape, or spray paint is usually the way it is done to mark an area. Then you have Dr. Burtsev who stated that these are found worldwide in known Bigfoot haunts. And finally, Mark and I on June 11, 2011 found an assortment of Bigfoot tracks in the mud on our night vigil.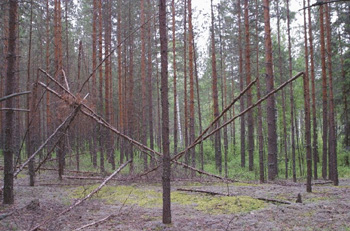 Structure allegedly built by Bigfoot in Fokin, Russia
I believe it is not so risky to assume Bigfoot might have something to do with these structures. I think it prudent for the Bigfoot hunter to keep an eye out for these structures as well as the other indications of Bigfoot's presence in an area. It is well worth our time to further investigate such structures in the field and see if we can tie these to Bigfoot as well as decipher their meanings.
We concluded our Lapeer hunt with Dr. Burtsev and we came out of the woods with more questions than answers that day.
Joe Stewart, The Paranormal Nomad.

More Haunted Michigan
by Gerald S. Hunter
Click here to order book
* * *